Simply the best tutorials for Brother's Pe-design.
ANNOUNCEMENTS
Tutorial Next 9.2 + Cutwork Addendum
Now Available
The addendum is on a computer disk and covers the cutwork upgrade. PDF with videos.

Tutorial Next/9 now includes cutwork lessons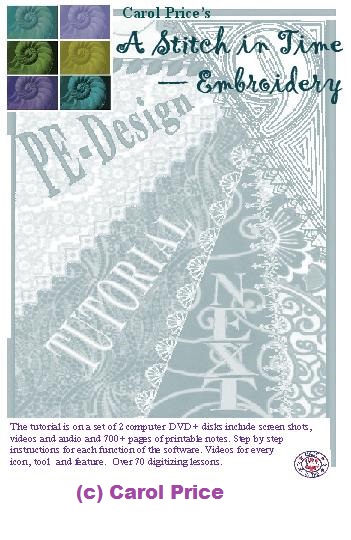 This tutorial is on two computer DVD+ disks.
Due to the United States Postal service increasing their rates, I have had to raise my shipping rates also. International rates have skyrocketed and I am sorry to say that I had to raise that accordingly. For the past few rate increases I did not raise my shipping rates but after this increase I had no choice.
Please check the FAQ page for information in regards to running tutorials properly.

Place your orders directly from this web site. Click on the ADD TO CART button below each item and proceed to Pay Pal to check out. You do NOT need to be a member of Pay Pal to use a credit card.
To celebrate National PI Day -here is a free design just for the geeks, nerds, math wizards and 4th graders out there. Click on the image to download your Pi a la Mode design.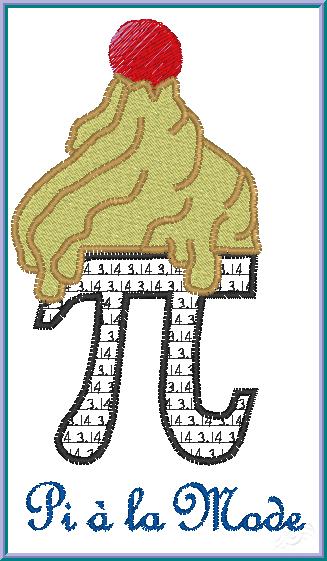 Please don't copy my site or designs. I have worked very hard and long to create an informative site for you. When you share my designs with your friends, it is like walking into a store and taking designs off the shelf and walking out without paying. You wouldn't shoplift in a store so please don't do that to me.
Also, I have NOT approved anyone to show my tutorial as a lesson plan. The tutorial is for home use only and is not licensed for classroom setting.
Copyright (c)1998 - 2014 Techno Babe, Inc.